Hansen's Sales Managers: Finding Your Closest Location!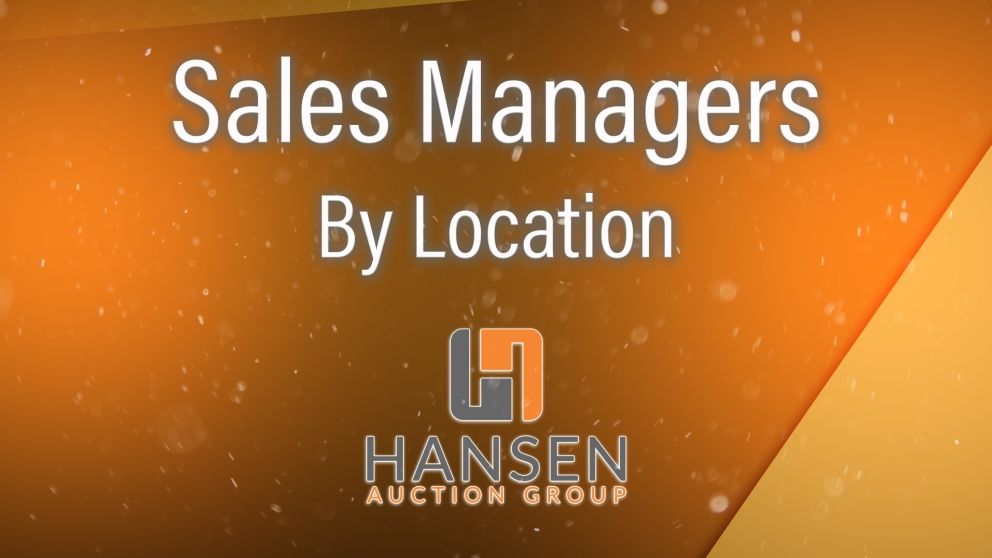 At Hansen Auction Group, our sales managers are the heart of our operations. They bring passion, expertise, and a customer-centric approach to the world of auctions. Let's meet some of the exceptional individuals who make up our team:
Spencer Smith | Sales Manager | Downing, WI
(715) 308-5678 | spencer@hansenauctiongroup.com
Spencer is our sales manager at our Downing, WI location. With 12 years in the industry, Spencer's commitment to efficiency and effectiveness is second to none. Whether it's guiding a client through the auction process or supporting a colleague, his willingness to assist is well known. When you partner with Spencer, you're partnering with someone who takes pride in delivering results that exceed expectations. Contact Spencer today!
Tim Ault | Sales Manager | Fort Atkinson, WI
(920) 723-3116 | tim@hansenauctiongroup.com
Tim is our sales manager at our Fort Atkinson, WI location. He has been in the auction industry for 6 years and truly enjoys the opportunity to work closely with both buyers and sellers. Tim is your reliable partner for all things auctions and consignments. With his approachable demeanor and vast knowledge of the industry, he's here to make your auction journey a breeze! Tim's seamless approach will leave you amazed by the exceptional auction experience he delivers. Connect with Tim today!
Scott Geurink | Sales Manager | Mosinee, WI
(715) 551-0685 | scott@hansenauctiongroup.com
Scott is our sales manager at our Mosinee, WI location. He's your go-to person for your next auction or consignment - approachable, knowledgeable, and always just a call or email away. Connecting with him is a breeze, and you'll be amazed by the seamless auction experience he'll provide. Scott is always seeking the thrill of finding the next item to list, ensuring your items find their perfect new home. Contact Scott today!
Keith Killam | Sales Manager | Neenah, WI
(920) 379-3910 | keith@hansenauctiongroup.com
Keith is our sales manager at our Neenah, WI location. Keith's friendly and eager nature makes him a reliable go-to. He is always ready to lend a hand and answer all of your questions. Whether it's navigating auctions or discussing consignments, his genuine dedication to your success shines through. For a knowledgeable partner who prioritizes your needs, Keith is the sales manager to connect with. Reach out to Keith today!
Ric Accola | Sales Manager | Sauk City Area, WI
(608) 393-5618 | ric@hansenauctiongroup.com
Ric is our sales manager in the Sauk City, WI Area. With 7 years in the auction industry, Ric is a great asset to our team! Ric enjoys the opportunity to see new places and things while meeting many new people along the way through auctions. His friendly and approachable nature makes working with Ric easy and enjoyable. Ric's willingness to assist and his easygoing demeanor create an inviting space for all. Reach out and connect with Ric to start your auction process!
Jamie Back | Sales Manager | Arcadia, WI
(715) 797-0802 | jamie@hansenauctiongroup.com
Jamie is our sales manager at our Arcadia, WI location. Jamie has been in the industry for 25 years, which has given him the opportunity to gain a wealth of experience in the field. He enjoys connecting with buyers and sellers, as well as the entertainment aspect that auctions bring to customers. For those seeking a seasoned professional who seamlessly blends expertise with connecting with the customers, Jamie is the perfect partner to guide you through your auction process. Give Jamie a call today!
Monica Johnson | Sales Manager | Princeton, MN
(320) 630-7495 | monica@hansenauctiongroup.com
Monica is a sales manager at our Princeton, MN location. She has an impressive 30 years of experience in the auction industry! Her genuine joy in connecting with customers and engaging on a personal level highlights her commitment to forming meaningful relationships. She especially appreciates the family feel of the industry. If you're looking for a knowledgeable professional who values both tradition and innovation, Monica is the ideal partner for your auction. Contact Monica today!
Lake Boehm | Sales Manager | Princeton, MN
(765) 366-5438 | lake@hansenauctiongroup.com
Lake is a sales manager at our Princeton, MN location. With a client-centered approach, he is committed to ensuring a seamless auction process. Lake's dedication to making each step of the auction process as smooth as possible underscores his professionalism and genuine care for those he serves. Lake finds immense joy and fulfillment in being part of customers' pivotal moments. Contact Lake today to learn more!
Mark Killam | Sales Manager | Las Cruces, NM
(575) 800-4648 | mark@hansenauctiongroup.com
Mark is our sales manager at our Las Cruces, NM location. Since early 2023, Mark has played a huge role in the success in establishing our new location in Las Cruces. Always with a smile and a customer-centric approach, he thrives on building relationships while ensuring the best outcomes for sellers. His enjoyment of meeting customers and creating positive experiences shows his dedication to the auction trade. Mark is eager to continue the growth of our Las Cruces location. Give him a call today to set up your next auction!
Our sales managers are more than just experts; they're partners in your auction journey. Reach out to them today to experience the exceptional service and expertise that only Hansen Auction Group can provide. For more information on what our sales team can offer, take a look at our services.
---